Ideally Westchester—Perfectly You!
The Knolls is a perfect fit among Westchester County's charming small towns and culturally rich villages. Here you'll enjoy bistro dining, lovely apartment living, great gathering spots, fitness, wellness, cultural arts, social doings and more. Our gorgeous wooded location is truly convenient to nearby shopping, dining, family and friends. It's also just a short train ride to Grand Central Station in midtown Manhattan. You won't even need to worry about parking—our staff will transport you to and from the station. It's your perfect Westchester retirement lifestyle!
Warmly Welcoming
At The Knolls, we're just the right size to provide warm, know-you-by-name personal attention along with everything else you're looking for in a delightfully enriching lifestyle. We're small enough for intimate relationships among residents, family and staff, and large enough for a life as big as you'd like it to be. You'll be warmly welcomed by your neighbors and feel perfectly at home in no time.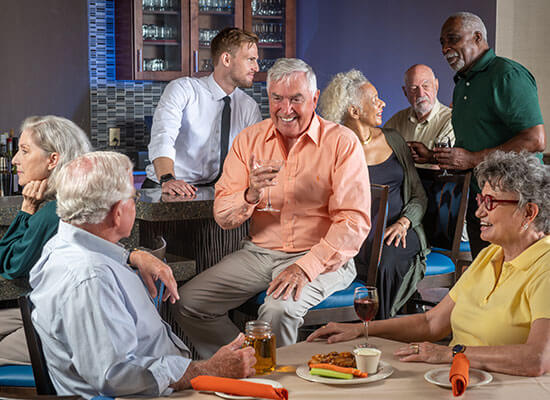 The Knolls offers an active social life filled with liveliness and choice of happenings.
At the Knolls I have found a community of caring new friends who enrich my life. I'm learning to weave and have joined a book club for the first time. I'm aging gracefully and happily.
The physical characteristics of The Knolls are outstanding — the beauty and grace of our building and our grounds, size of facility ideal for informal social interactions, geographic location and availability of excellent public transportation, nearby hospital and complex of top notch doctors.
Value and Confidence
Discover value you won't find elsewhere in Westchester County. As one of only two continuing care retirement communities (CCRCs) in the lower Hudson Valley, only The Knolls offers low entrance fees and contract choices that let you enjoy a full, rewarding retirement while maintaining control of your financial legacy. Compare and see. You'll be pleasantly surprised!
Get Your FREE White Paper: The Benefits of Choosing a CCRC!
Fill out our form and we will deliver the white paper as a PDF to your email inbox.