Wellness, Front and Center of Your Active Lifestyle
It's easy, social and fun to set fitness and wellness goals at The Knolls. Attend water aerobics classes in the indoor, heated pool. Learn about successful aging and healthy nutrition at special events. You'll even have access to wellness-focused physicians, dentists, podiatrists and optometrists through the Healthcare Center. Live happy, live well—at The Knolls.
We provide expert, well-rounded medical and dental supervision to all residents in our Healthcare Center, which is conveniently connected to the rest of the community.
The Healthcare Center is also home to our excellent short-term rehabilitation center, comfortably enriched living residences and compassionate skilled nursing care. If, as an active independent resident, you ever require short-term rehabilitation, you'll appreciate the convenience of a respected rehab clinic right on campus. Our skilled therapists can help you recover and return quickly to your independent apartment home.
Healthcare Center Services Include:
Regularly scheduled visits by specialists including optometrists, podiatrists and therapists
Short-term rehabilitation stays in a comfortable, on-site setting
On-site rehab available with a physical therapist, occupational therapist, speech pathologist and audiologist
Licensed, registered nurses on site and on call
Medical care overseen by a medical director and dedicated physicians
Enriched Living—The Perfect Mix of Independence and Assistance
Enriched living in your private, one-bedroom apartment offers the best of both worlds. You'll have the independence to enjoy all the community has to offer—and just the right amount of assistance when you need it. It's the perfect setting for the warm, personal attention you'll receive from a friendly staff that knows you by name.
Skilled Nursing—Excellent Care with Perfect Confidence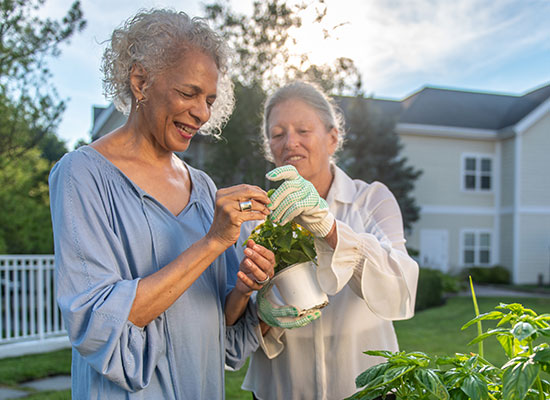 The continuum of care at The Knolls gives you the peace of mind of Bethel's more than 100 years of expertise in providing excellent, highly respected care for seniors. We take the time to customize each care plan by working with a team that includes family, nursing staff, attending physicians and our own nutrition and recreation experts.
Continuum of Care Services Packages Customized on an Individual Basis to Include:
Awarded a 5-star rating from Medicare.gov for quality measures, healthcare inspections and staffing.
Private Rooms with private bathrooms
Intimate ten bed continuous care and rehabilitation suites with 24 hour RN
Personalized dining menu
Extensive visiting hours with 24 hour security
Guest suites available
Private Garden
WiFi and Cable television
Active schedule of social, recreational and cultural activities
Access to all lifestyle amenities and programs of The Knolls
Bethel Home Care
Perfectly practical healthcare in your home is also available through Bethel Home Care. Please call 914-941-1300 to learn more about care in your home through Bethel's Certified Home Health Agency (CHHA) and Licensed Home Care Services Agency (LHCSA). Visit www.Bethelwell.org for more information.
Bethel Adult Day Program
If you need help for a loved one during the day outside your home, Bethel Adult Day Services are closeby on our Valhalla campus. For more information, contact Program Director Dorothy Parchment at 914-461-4500, extension 4220 or email Dorothy.Parchment@bethelwell.org.
Learn more at our website www.bethelwell.org/adultday
Get Your FREE White Paper: The Benefits of Choosing a CCRC!
Fill out our form and we will deliver the white paper as a PDF to your email inbox.