It's all about a grand design with charm and style, and the Winthrop offers just that, with its perfect blend of comfort and spacious luxury.
At The Knolls, we believe that your home should bring you a sense of happiness, pride and peace of mind each time you walk through the door. We want it to be a home that delights you, where you can enjoy entertaining your friends, work on hobbies, start a book club or whatever you wish! Most importantly, we want it to be your sanctuary, a home where you feel joy and contentment.
The Winthrop, through its creative architectural design and generous interior layout, allows for all lifestyles – whether you enjoy entertaining, hosting overnight visits from family and friends, or opting for quiet time in the comfort of your home, surrounded by lifelong treasures and memories. No matter what you choose to do, the Winthrop can easily accommodate your way of life.
The spacious 1,589 square foot Winthrop features two bedrooms, two full bathrooms, two porches, a den, a bright solarium, and a breakfast nook.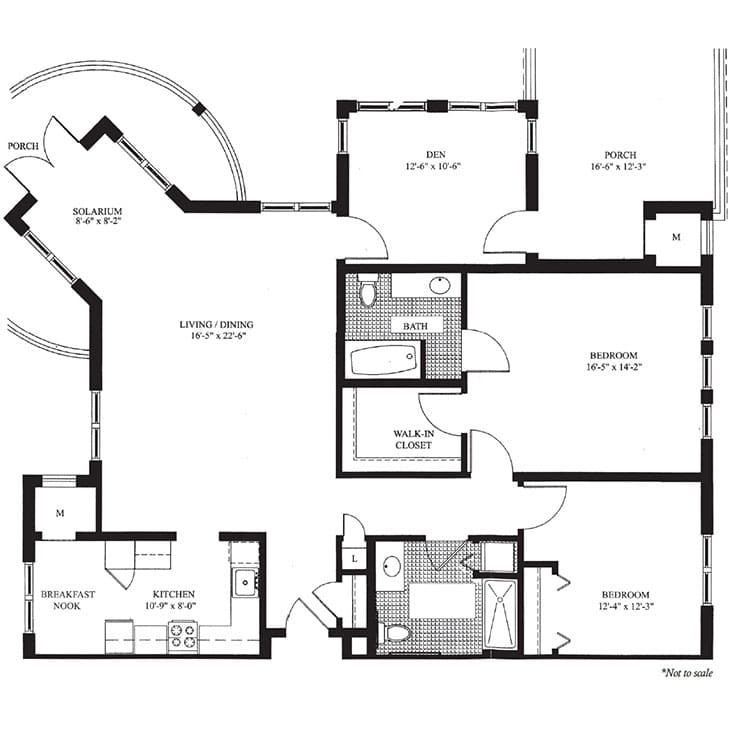 Beyond the entrance foyer is a large, inviting living and dining area with an adjacent solarium and surrounding porch. The openness of this design melds the indoors and outdoors into one, grand, extended living expanse! Be a part of each season's changing views—a soft snowfall, sprouting buds or drifting, colorful leaves—from the comfort of your couch or porch.
A modern, fully equipped, all electric kitchen opens onto the living and dining room area, so you don't have to miss a beat with guests while preparing dinner. In the morning, the breakfast nook provides a cheerful, comfortable spot for that first cup of coffee before the day gets underway.
A naturally lit den, thanks to its many windows and adjoining porch, again brings the outdoors to the inside! Located to the right of the living and dining room area, this room offers many opportunities for its use, depending on your interests and activities.
The master bedroom is airy and spacious with a sizeable, walk-in closet and beautifully appointed, adjoining bathroom. The second bedroom is also large, with an impressive layout and its own closet. An adjacent bathroom for guests is conveniently located in the hallway.
Most important to us, here at The Knolls, is that you are able to express your style and independence. Consider The Winthrop a large blank canvas on which you can create your own masterpiece by selecting the furniture, paint colors, finishes and window treatments that match your personal sense of design.
The Winthrop, and all of our apartments, include an in-unit washer and dryer. However, don't worry about having to keep up with any other chores; we'll do them for you! All residents at The Knolls enjoy weekly housekeeping, flat linen service, and building and grounds maintenance. Also, you can check dinner preparation off your daily list of "must-do" tasks, as you can enjoy gourmet dinners in our elegant dining room.
Whatever your interests and hobbies, the Winthrop will provide you with the perfect space to do it all.
If you're ready to experience the charm and comfort of living at The Knolls, call us today at 914-461-4500 for more information.