"Home is not a place… it's a feeling." –Cecilia Ahern
Charming, warm, comfortable, welcoming. If this is what you're looking for in your next home, then look no further than the Bayberry at The Knolls. It's got it all! This one-bedroom apartment home features an open floor plan in the kitchen, living and dining area, and a generously sized bathroom and walk-in closet, all thoughtfully laid out for your comfort.
"The size of the Bayberry is very suitable for me," says Lawrence H., a resident of The Knolls for almost five years. "I considered opting for a larger floor plan, but this one fits me very well."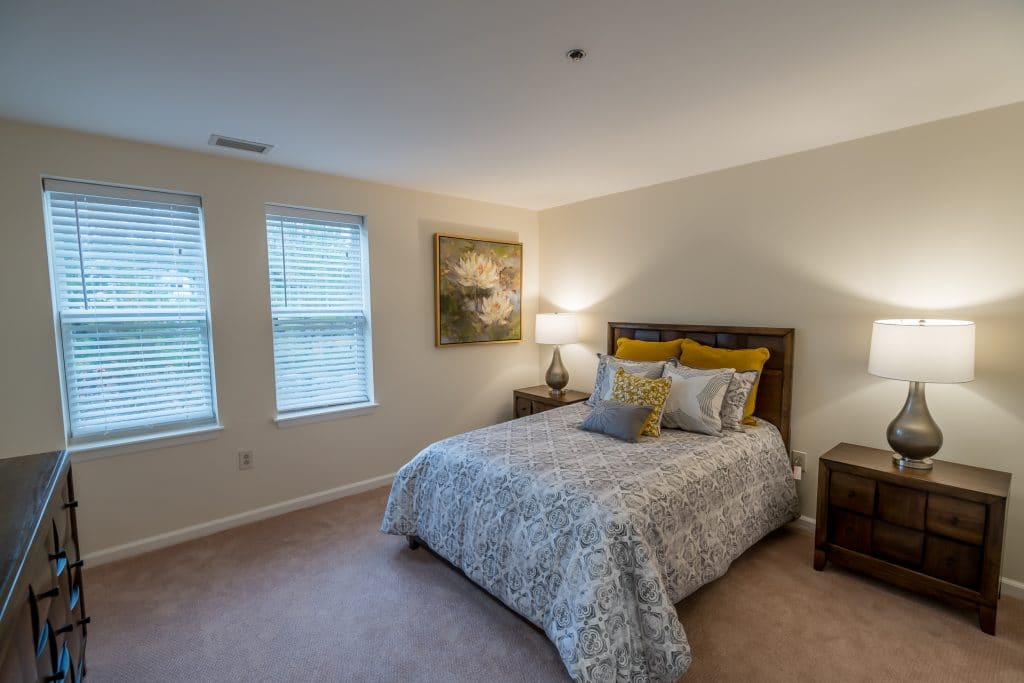 Lawrence chose the Bayberry because he finds that it offers plenty of room to do the things he enjoys most, like hosting friends and relaxing after a busy day.
Another contributing factor to choosing the Bayberry apartment home at The Knolls was that as Lawrence explored his retirement options, he visited several other communities in the area, but "the residents here seemed more friendly and interested. There is more of a family feeling here than at any other place I visited."
High-End Living
As you enter the Bayberry, you'll notice a fully-equipped, modern kitchen with granite countertops and high-end appliances. Included are a refrigerator, microwave oven, full size oven and range, dishwasher and garbage disposal.
The kitchen overlooks the living and dining area, making the Bayberry an ideal space to host your friends and family. Whether you're preparing food in the kitchen or spending time in the living room, you'll still be part of the gathering.
"Sometimes I host bridge with my friends in my apartment," says Lawrence, "and sometimes I'll spend cocktail hour at my friends' apartments."
Just a few steps away from the living area is your master bedroom, complete with a spacious walk in closet. The bedroom features large windows, illuminating the room with natural light, and plenty of space. The nearby bathroom and laundry room feature a tub and shower, plus a large vanity.
These wonderful features, combined with all your own personal furnishings, will turn the Bayberry into your ideal home.
A Maintenance-Free Lifestyle
Whether you choose the Bayberry or another floor plan, becoming a resident means you'll have full access to The Knolls' excellent services and amenities. You'll enjoy weekly housekeeping, flat linen service, and building and grounds maintenance. You can also take advantage of the dining services, and enjoy delicious, chef-prepared meals at one of our dining venues.
In addition, all residents of The Knolls can access on-campus amenities including the indoor pool, wellness center, and dedicated creative arts space. If you'd like to travel off-campus, New York City attractions are just a short drive or train ride away, and scheduled transportation can take you where you need to go.
"I do most of my socializing outside of my apartment home," says Lawrence, "I enjoy the swimming pool, the exercise room, I play bridge and poker, and like all the entertainment offered."
The ability to create the feeling of home at The Knolls starts with a great floor plan, which is exactly what you'll find in the Bayberry, or in any of our floor plans.
For more information on The Bayberry, or any of our other exceptional floor plans, give us a call at 914-461-4517, or visit us on the web.