"I wouldn't change anything about it," says Knolls resident Elaine H., referring to her lovely Elmwood apartment home. The Elmwood is one of seven apartment layouts offered at The Knolls, a Westchester County continuing care retirement community.
It features 878 square feet of airy living space, including one bedroom, a den, and one and a half bathrooms, with unique features like French doors and clerestory windows.
Meet Elaine Halperin
Elaine came to The Knolls about three and a half years ago, when she decided that she no longer wanted to live alone. "It's nice to have people around, so if you want to do something with them, you can," says Elaine. "And, you have a door you can close and be alone if you want to. It's very much like living in a house."
When you decide to make The Knolls your home, you'll be joining a welcoming community of residents like Elaine. Also, with an abundance of regularly scheduled community events, trips and classes, you'll have numerous opportunities to pursue your interests with others.
The Possibilities of the Elmwood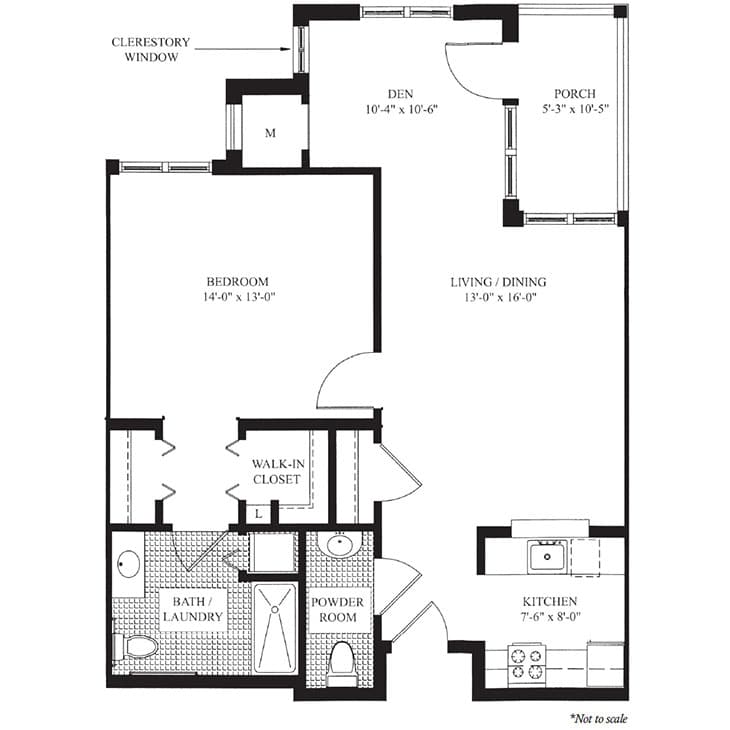 "I chose [this floor plan] because I was fond of it, and it was large and comfortable for a one bedroom apartment," adds Elaine. "I like everything about it. It's very workable."
The Elmwood has a large and spacious bedroom, leaving you with plenty of possibilities to arrange your furniture. It also features a walk-in closet and linen closet along the hallway between the bedroom and master bathroom. Elaine says, "There's also a closet when you come in the entryway for coats and jackets, and so your guests can put their things in there."
In addition to the master bathroom, the Elmwood features a powder room for guests, which is very convenient when entertaining. "I have visitors all the time. Mostly relatives and friends."
The den can be converted, temporarily or permanently, into any number of uses such as overnight guest accommodations, an office, library or whatever best suits your needs.
Join Elaine in making The Knolls your home, and have peace of mind knowing your future includes a beautifully renovated apartment home in a friendly, welcoming community.
For more information about the Elmwood, or any of The Knolls' other six floor plans, please give us a call today at 914-468-4728, or visit us online.