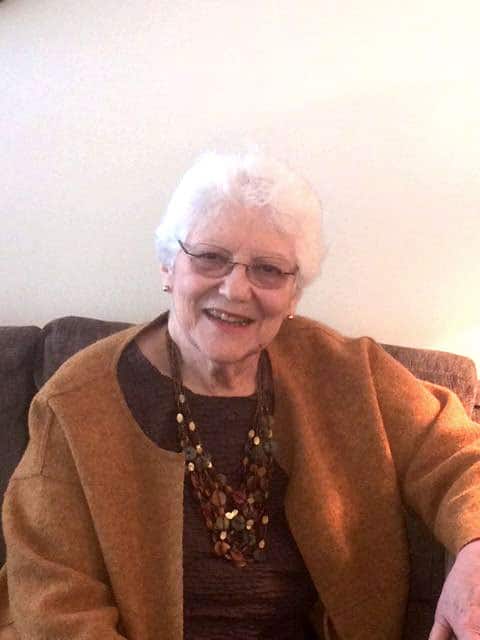 According to Gloria, a resident at The Knolls for just a few months, "I am having fun! I am happy."
"It all happened so fast. I was living in my apartment in Yonkers. My daughter had two friends who lived here at The Knolls. She suggested to me that, 'Mom, it's the right time. It's a good idea for you.'"
Gloria continues, "I looked for about a month and then I leased at The Knolls. My apartment is lovely. The porch looks out on the back yard, and I don't have to cook!  It involves shopping and, eh! You're talking to a very happy lady," she exclaims.
At first she didn't know anyone, but Gloria soon met her daughter's two friends and that got the ball rolling. "You sit down at tables at dinner and that's how I started meeting people," she says. "Pretty soon my neighbors were saying 'hello' and 'you have such a wonderful smile…you're so happy!'"
"And why not?!" she exclaims. "We have it made in the shade here! We can do whatever we want to do. I laugh because everybody orders ice cream for dessert.  Seriously we can do whatever we want to do. It's really funny. It's hysterical!"
"The best thing about The Knolls is you have no problems. You have no worries. You're not stressed." Gloria sounds amazed and delighted as she continues, "They do the sheets, clean your apartment. They even drive us to stores, church or synagogue.  Shopping! I still go to Trader Joe's!"
"I can do anything I want. That's the amazing thing." She still can't get over it. "There's so much going on here, and that's really amazing too. They have all sorts of activities. If I was a game player, I'd be playing mah jongg. People are really into that. It's fun to watch! Not my cup of tea. When my granddaughter was nine, she tried to teach me, but no."
"I have three wonderful children," Gloria states. "But I really dote on my four grandchildren. They adore me and I adore them…we have so much fun."
One of the things Gloria loves about living at The Knolls is not burdening her children. "I wanted not to put all the burden on my children. It's hard for people to have older parents. It takes a lot of time and energy and emotion to help them live a good life. Here the kids don't have to worry about us. They really don't."
"I like living in my own apartment," Gloria says contentedly. "I told my daughter maybe this was too fast, but then people started telling me I looked so happy. I decided to give up. I am going to be happy! There's no reason not to be. Even the people who work here are happy. I'm kind of proud of myself, being so adaptable."
While she's on hiatus now, Gloria has not ruled out returning to work as a school nurse. For the moment, though, Gloria is still reveling in her new lifestyle, friends and the adventure of doing whatever she wants! She says, "I plan on being more active in the library meeting group. I will start swimming soon!"
For more information on making a move to The Knolls, give us a call today at 914-468-4728, or visit us online. With a wide variety of one- and two-bedroom floor plans, you'll find the perfect floor plan at The Knolls.