Inside the bright, airy Knollwood residence, you'll find generous space for everyday relaxation and contemporary features for Westchester-style entertaining. The Knollwood residence includes two large bedrooms, two full bathrooms, a spacious living and dining area, an expansive porch and a modern kitchen complete with an inviting breakfast nook.
The layout of the Knollwood residence is comfortable, with the bedrooms and bathrooms on one side, and the living and kitchen spaces on the other, making it perfect for hosting. A total of 14 windows provide bountiful natural light throughout the entire home, as well as plentiful views of The Knolls' beautiful campus.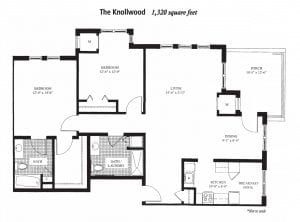 Big bedrooms and bathrooms provide comfortable space for all
What sets the Knollwood apart is that each bedroom feels like a master suite of its own, complete with bathroom access. So when you host guests, they truly will feel at home! The second bedroom is also large enough to share space as an office or a study, where guests can still enjoy comfortable accommodations during their stays.
A living area with a sunny space to relax 
As you enter the Knollwood residence, you are bathed with light as you step into your living space. Conveniently, all the windows throughout the home already include window treatments. And with the Knollwood's connected porch, you'll also have a private space to garden or to simply enjoy impressive campus views.
A contemporary kitchen, with a breakfast bonus
The Knollwood residence includes a fully equipped kitchen with all the modern conveniences, so you can make your own meals, or comfortably throw a party! And our residents say that their favorite part about the Knollwood is its charming breakfast nook. With two large windows providing warm, natural light, the breakfast nook is an ideal spot to get a great start to every day.
Get to know the Knollwood
Does the Knollwood at The Knolls sound like a place you would like to call home? We would love to host you for a tour and give you all the details about this lovely residence and our ideal Westchester lifestyle. To schedule your personalized tour, simply click here or call 914-461-4517!