For some residents at The Knolls, things started to heat up in January when the community introduced Aqua Zumba®, which brings the Latin dance-inspired workout, Zumba,® into the water with a big splash!

Every Saturday from 10 to 10:45 a.m., members gather at The Knolls' indoor pool where warm waters and charismatic instructor, Carol Migliorella, greet them. With easy stair access into the pool, people of all abilities can join the class. A lifeguard is always there to assist, as well.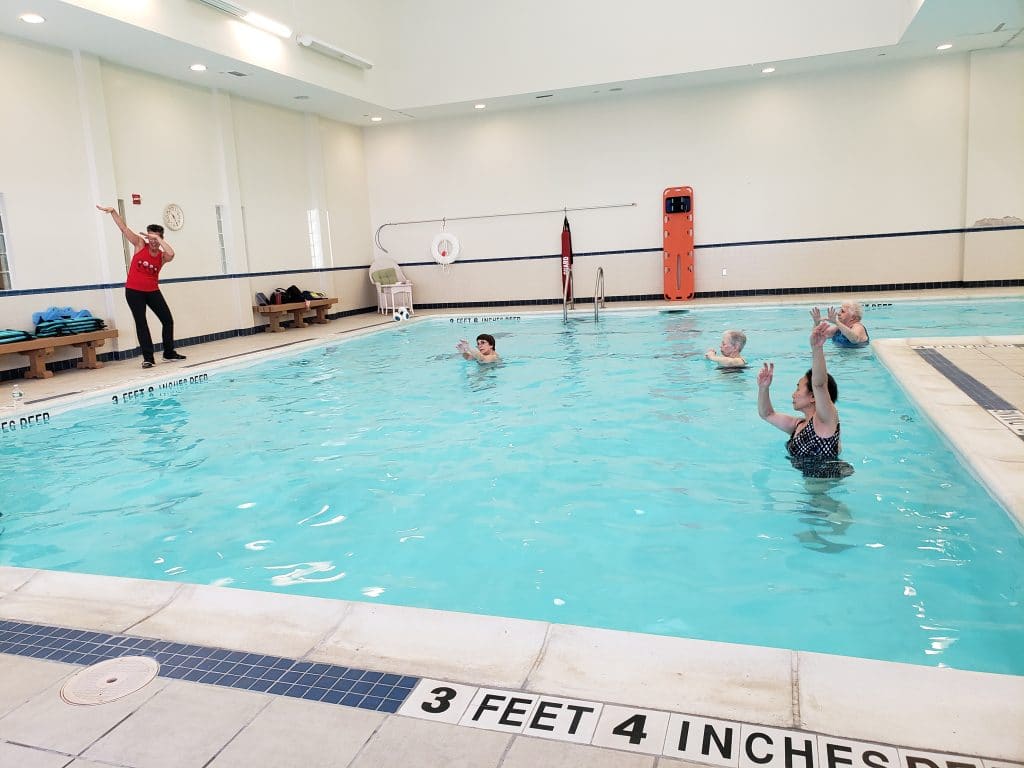 From the pool deck, Carol cues the moves for participants to salsa, mambo or cha-cha in the water. Not an avid dancer? No problem. "It doesn't matter if you have rhythm," Carol said. "We modify moves so everyone can feel successful," she shared. "Plus, only your head and shoulders remain above water so no one can see what you're doing underwater!"
A full-body benefit
Want to know how this unique workout complies with The Knolls' commitment to residents' wellness? Aqua Zumba® is a great fitness option for seniors because it:
Builds muscle strength – by using the water for resistance. "Because of the push-pull created by the water, a step-together-step movement works both the outside and inside leg muscles," Carol explained. Similarly, bicep curls in the water work the triceps muscles when the arm extends.
Increases endurance – as well as heart and lung function. Water resistance is a factor in moving (or dancing) in the pool, thus increasing your heart rate.
Enhances flexibility. Because of the smoothness of water resistance, your joints increase their range of motion, and as a result, you become more flexible.
Eliminates joint pressure. Foot, knee or hip pain? Water offers buoyancy and makes you feel lighter so that your body doesn't experience the same impact as you would on land.
Frees you from falls and improves balance. In the water you can alternate your knee lifts without the fear of falling, and at the same time, improve your core strength to help feel stronger overall.
Encourages socialization. With a lively, fun-loving instructor like Carol, it's hard not to want to come to class and participants always welcome newcomers to their weekend dance party.
A vibrant leader who invigorates everyone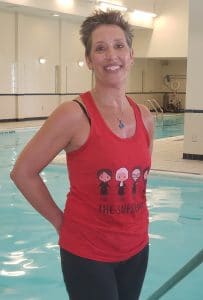 "The majority of my students tell me they feel so much better coming out of the water than how they felt coming in," Carol said. Moreover, water aerobics is particularly great for people with arthritis or those recovering from joint replacement surgery.
Carol has been teaching aerobics, mostly in the water, for 20 years. She is certified in Zumba® and Aqua Zumba® and has the experience to quickly understand participants' abilities and change moves as needed. A natural leader, Carol loves to exercise and shares that passion in every class.
You can catch Carol every Saturday at 10 a.m. and watch as she helps residents discover the joy of a water workout. Not yet a member of The Knolls community and want to see Aqua Zumba® firsthand? Get in touch to request a personalized visit our Wellness Center and other superb amenities.