When you begin to smell the fall leaves and see their bursts of yellow, orange and crimson colors, you're reminded that it's one of the best times to live in the Hudson Valley. For residents of The Knolls, experiencing the season's unparalleled color and beauty here in Westchester County, NY is maximized with outings to destinations that offer the most optimal autumn experiences.
This fall, residents realized the true meaning of "something for everyone" when they chose from a full list of planned excursions—all close to The Knolls.
Picture-perfect autumn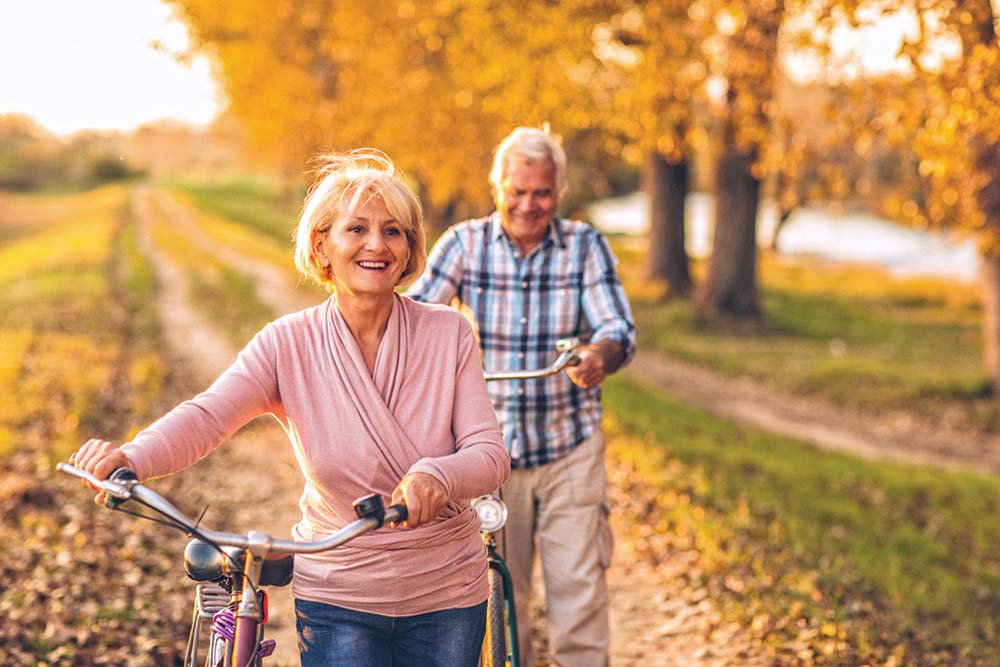 The summer's heat is a distant memory, now that fall has arrived with its cool morning air and pleasantly warm afternoons. And there's no better time to visit Muscoot Farm, an early 20th-century interpretative farm museum in Westchester County. Here, residents toured historic buildings like the milk house and icehouse and enjoyed seeing the farm's animals. The park's Main House also featured an art exhibit from Hudson River Potters, known for its eclectic group of ceramic artists.
A fall foliage drive is "a must" when living in Westchester County, NY. Driving north through the countryside, residents stopped at Salinger's Orchard, known as one of the best apple orchards in the Hudson Valley, as well as being home to 18 varieties of apples. Residents stocked up on fruit, cider and cider donuts before heading for lunch at a local pub in North Salem.
During another outdoor fall adventure, this time on the water, The Knolls' residents boarded the Hornblower Yacht for a Lady Liberty lunch cruise that included amazing views of the Empire State Building, Brooklyn Bridge, Statue of Liberty and NYC's striking skyline.
Classical music pairs well with a fall landscape
Living in Westchester County, NY, you have endless choices for cultural entertainment, and appreciation for the arts is a favorite pastime for The Knolls' residents. Cultural outings this fall included two afternoon concerts at Downtown Music at Grace in White Plains where residents listened to music by the Westchester Philharmonic Chamber Group and an acoustic program performed by a classical piano and clarinet duo.
Only a short drive from The Knolls, a group of residents also spent a relaxing Sunday afternoon at the Greenburgh Public Library in Elmsford, NY, listening to contemporary compositions by classical guitarist Jordan Dodson and flutist Brandon Patrick George.
Save it for a rainy day
In addition to the fall's outdoor activities, The Knolls' residents were able to fulfill their penchant for the performing arts. This fall they watched two Broadway hits: A Doll's House, Part 2, the 2017 follow-up to the classic A Doll's House by Henrik Ibsen at the Westchester Broadway Theater, and a performance of the 1951 musical An American in Paris by the Hudson Stage Company. Without a doubt, one of the many benefits of living in Westchester County, NY, is access to world-class theater venues like these right in your backyard.
Another wonderful venue for those who appreciate the arts is The Jacob Burns Film Center in Pleasantville, where the residents recently had an opportunity to see the National Theater Live's A Midsummer Night's Dream. This was featured as part of the Burns' World Stage on Screen, an ongoing series sponsored by The Knolls that brings live theater performances around the globe to the big screen.
There's no better time to visit The Knolls—not only to see the Hudson Valley in its fall glory, but also to learn about how living in Westchester County, NY, and The Knolls adds excitement, camaraderie and culture to retirement life. Please call today at 914-461-4517 or visit The Knolls' website to arrange for a tour.