"The layout is very convenient," says Barbara W., resident of The Knolls. "It has everything we wanted: two bedrooms, two bathrooms and a porch."
Barbara and her husband Jack moved to The Knolls about five years ago and have been enjoying their Montgomery floor plan apartment home ever since. With plenty of room for guests, ample closet space, and a welcoming community, they've certainly made The Knolls their home.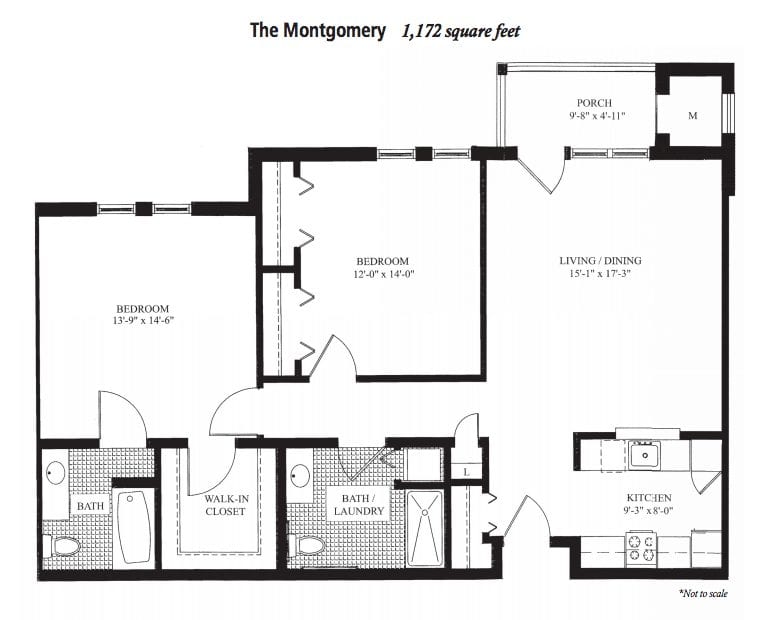 The couple originally made a few customizations upon moving into their apartment, including adding some shelves to their spacious walk-in closet which they've doubled as a workspace.
"There's a surprisingly generous amount of closet space," says Barbara. "We used to have a basement and an attic for storage, but the closet space here has worked well with some slimming down of things."
The couple has transformed their second bedroom into an additional living space, arranging it as a sitting area, complete with a television. The room also includes a bed for when Barbara's daughter comes to visit from out of town.
Of all the floor plans they toured, the Montgomery seemed like the obvious choice for the Weisses because of its easy-to-navigate layout. The Montgomery features a walkway straight to the bedrooms, creating more privacy and a level of separation between the living area and the bedrooms.
Another selling point for Barbara was the outdoor porch. She had one in her previous home, and wanted to make sure she would have one at The Knolls, too. Her porch now features a few chairs and tables, and some potted plants, making it an enjoyable place to spend time during the warmer weather months.
A Second Family
"Someone told me that when you move to The Knolls, you'll have a second family," says Barbara. "I thought to myself, 'Are they going to be nosey?' but it's not that way at all! We've made many really good friends, who I think would be my friends regardless of wherever I was."
Barbara is active in The Knolls' in-house newspaper as an editor, and spends time enjoying the different events offered each day. She and Jack enjoy the social aspect of community life, and are pleased with their maintenance-free lifestyle.
Barbara adds, "Don't hesitate about making a transition. You don't realize the difference it makes until you make the change."
For more information about what it's like to live at The Knolls, give us a call today at 914-461-4517, or request your free information kit online.