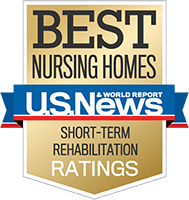 In a recent U.S. News and World Report survey, The Knolls' skilled nursing facility was named one of the top-rated short-term rehabilitation centers in New York state. According to a recent article in The Journal News, which shared the U.S News and World Report findings, the ratings that The Knolls' skilled nursing system received were based on a range of metrics including inspection, staffing and health care outcome data.
The skilled nursing services on site at The Knolls are just one part of the Continuing Care Retirement Community operated by Bethel in Valhalla, which also includes both independent living and assisted living options. The Knolls was one of just seven providers to be named a High Performing Short-Term facility throughout the entire state.
Says Beth Goldstein, Bethel's CEO, "We are pleased to have received this designation by the U.S. News and World Report. We work very hard to provide the best care and comfort to our residents and appreciate this statewide recognition of our efforts. We will continue to work on behalf of all our residents to provide them with the quality care and peace of mind they deserve."
What this all means for anyone living at The Knolls is that if he or she experiences a change in health and needs short-term rehabilitation as they recover, there's the assurance that they will receive top-notch, top-rated care on site. Plus, with the levels of care available directly within the community, anyone needing additional health services will not need to move to a different care provider. So, beyond the vibrant and engaging lifestyle that The Knolls provides, living there also grants invaluable peace of mind for today and tomorrow.
To learn more about The Knolls and how it supports the overall wellness of all who live there, click here or call 914-461-4500.