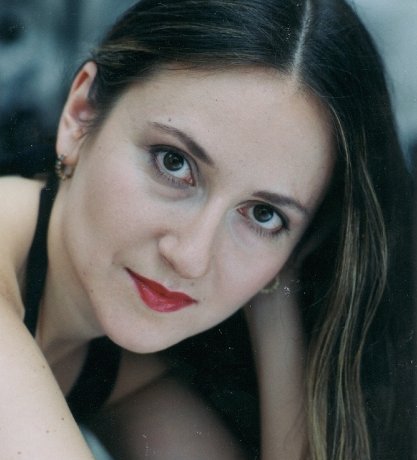 Mila Levine has been the cultural arts director at The Knolls for the past six months. But based on her previous 10 years working as a recreation director, volunteering in nursing homes throughout Westchester County, in addition to her background as a singer-songwriter and actress, she is far from a novice as her short time in this position might otherwise indicate.
"After I left my previous job," Mila says, "I spent a year doing all these freelance projects. I just didn't find it as fulfilling as I thought I would. I didn't feel like I was fulfilling my mission in life. When I saw the job listing for a director of cultural arts at The Knolls, I was like, that's the perfect title for me, so I applied."
Mila's enthusiasm for her current job is apparent, although even she seems surprised at just how well it's working out. "I really didn't expect it to work so well," she explains. "My primary job is to create programming that benefits our residents. I look for different things for them to do like going to the theater and movies, as well as sending them on trips at least once a month. I make a lot of calls and do a lot of research online to see what's out there that they may find interesting. I also get suggestions from the residents. For example, on June 3rd they went to the Guggenheim Museum."
But Mila's programming extends far beyond outings to the city as well as many of Westchester's arts venues. While Mila arranges trips to outside concerts, musicians and other performing artists also come to the campus to perform for residents. Mila has also introduced some of her own personal touches to the programming. "I now do poetry classes with the residents," she states. "I've introduced a couple of versions. In one, we discuss different poets. Then I started bringing in my own poetry, which led to them bringing in their poetry and talking about our favorite poets. It's exciting to be able to share all that material."
Under Mila's guidance and utilizing her own background and experience, Mila also started giving residents in her classes assignments like writing their own autobiographical pieces, which they would read to each other. "I was just trying it out to see if it worked," she says, "because if it did, the next step would be to have them create short, one-person plays of their own. We already have a play reading group, so I think of this as a natural next step."
Mila seems determined to implement more of her ideas for allowing residents the opportunity to create for themselves. "I wanted to have a monologue contest," she enthuses, "so I collected all these monologues I knew they'd love. But we decided it was probably better not to have residents competing. So instead I want to call it Monologue Madness."
Asked about some of the more local events Mila's arranged for the residents to do in Westchester, Mila doesn't hesitate. "There was a comedy show at the Emelin Theatre in Mamaroneck called Ladies of Laughter," she says, laughing at the memory. "Once a month we meet with my cultural arts committee to get feedback from the residents who want a little bit more control of the programming. When I told one of them about the comedy show she said, 'but these people are not famous.' So we watched a bunch of their YouTube videos online and the women were hilarious. I said, 'come on, let's try this.' Well, they went and loved it."
Mila believes the fact that residents of The Knolls are as opinionated as they are demonstrates their level of enthusiasm for the various programs being instituted, as well as a desire to have more input on the programming. She feels it's important to listen to what the residents have to say, and design new programs based on their expressed desires and requests. "We need to really gear everything we do culturally for the residents. Fortunately, we have a number of people who are very vocal about what they want to do creatively and the kind of cultural events they want to attend. It's important to honor that."


Interestingly, the job of cultural arts director at The Knolls extends beyond concerts, theater, poetry, comedy and the arts. Mila also helps residents maintain their physical well-being, something her background as a fitness instructor helps with enormously. "I make sure they exercise every morning," she says. "We have a large space called Victoria Hall. They exercise to a DVD I put in for them. They love that DVD — it's the same one all the time. And now that everyone's getting more comfortable being in groups again, we're getting more people to participate."
Mila's responsibilities also run the gamut from the fine arts — painting and ceramics, which are taught by artists brought in from outside the community — to fitness training, including aqua aerobics and Zumba. Although Mila teaches several of the sessions, she also brings in teachers and trainers from outside The Knolls. "We now have a personal trainer who does one-on-one classes with the residents," she says. "Weekends are a little less busy here, so when I teach water aerobics on Sundays, I get more people in my classes."
Mila has also arranged for several entertainers to perform at The Knolls. Ironically, given her performance background, one of the scariest things Mila has done in her six months at The Knolls was performing for the residents. "I'd just started here," she says, "when I performed songs for Hanukkah. We did some in Hebrew, Yiddish and Russian. I was very nervous because, while I know I can sing, I work here. I thought, what if they don't like me. I performed with my violinist, and they loved us."
Nervous or not, it's obvious that Mila's extensive talents have already made an enormous contribution to life for the residents at The Knolls. With all she's accomplished in only six months, how does Mila view the residents she has been working with? "The words I think I'd use to describe them," she says, "are vibrant,energetic and opinionated."

Given her extensive background and experience, not to mention everything she's already accomplished, it seems this community and its cultural arts director may just be a match made in creative heaven.

If you'd like to learn more about The Knolls retirement community, and have the chance to see what makes our community and its people so special, call (914) 461-4500 to arrange a personal tour.