For those who appreciate the camaraderie and friendship of being part of an organization, the Men's Club at The Knolls offers its male community members an opportunity to enjoy such socialization and familiarity in a group setting.
With more than 20 members, the club offers an opportunity for residents to meet and get to know one another. "It's a place where you can let your hair down, talk and ask questions," explained Carl P., one of the club's newest members.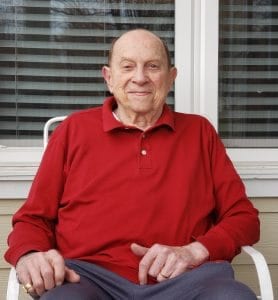 Carl and his wife came to The Knolls on a spur-of-the-moment visit, and they quickly noticed its warm, inviting social atmosphere. While they didn't initially plan to move to The Knolls, once they looked at The Elmwood apartment home, they were sold.
Once settled in, Carl's wife encouraged him to get involved in the vibrant community at The Knolls. "She told me I needed to keep myself busy," he said. Carl, who still does consulting work after several exciting decades in the construction industry, has a lot to offer. So, he was a great fit for the Men's Club—and also as chairperson for the building, grounds, and food and dining committees. Carl is also a member of the community's resident-led finance committee.
A tight-knit group
Despite his down-to-business persona, Carl appreciates the Men's Club for what it is: a place for fellowship. "It's more socialization than business," said Carl. "We all need someone to talk to."
What has surprised Carl the most about the club is the many strong friendships he has developed. "It's a unique men's club because we all live in the same community and that brings you closer," said Carl. "We're bonding even though we don't want to admit it because we're men."
This strong connection offers a new twist on a common belief that men's friendships tend to be more transactional and less emotional. Some research, as noted in Psychology Today, looked at the characteristics of male-male and female-female friendships and found that men's relationships are often based on sharing activities versus sharing feelings.
So, if the Men's Club is helping to break the mold on how men interact with one another, that's a good thing. According to the National Institute on Aging, a positive correlation exists between social interaction and health among older adults. Study results indicate that social well-being is linked to reduced inflammation, less depression, less feelings of isolation, lower blood pressure and a more active lifestyle.
Lasting friendships
For many adults, cultivating friendships takes effort; however, with its robust cultural arts program, fitness classes and clubs, The Knolls provides ample opportunities to connect with neighbors and develop long-lasting relationships. Just ask Carl.
"We see each other every day, so [the Men's Club is] more like a family club." Carl shared. "In fact, it's as close to family as you're ever going to get."
Are you looking for a place that feels just right? Join us for a welcoming event, or call us at 914-461-4517 to learn more about the "just right" lifestyle at The Knolls.