Service to her community is nothing new for Gail R. After her move from White Plains to The Knolls in August of 2017, she wasted no time in finding ways to benefit the community.
"I love it," she said. "I came here to be a part of a community. It's lovely. The people are warm, welcoming and intelligent."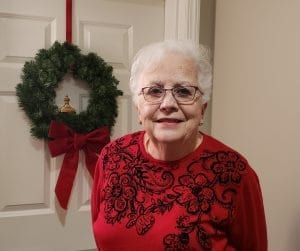 Gail's professional career involved both teaching and acting as principal of the New York School for the Deaf. So, after learning that her particular background could be of use to The Knolls, and to one resident in particular, she answered the call to action.
"Many residents here wanted to be able to communicate with a fellow resident who is Deaf," she said. "I suggested that I could teach sign language to anyone who wanted to learn."
After settling into her beautiful Elmwood apartment and making new friends, Gail started her very own American Sign Language (ASL) class at The Knolls.
A special class connecting the community and beyond
"We meet once a week and the class has been going on continually for about a year." Gail explains. "I was a teacher, so I have plenty of lessons for ASL. We typically go from finger spelling to conversations and work on greetings. Now we're working on phrases for the holiday season."
Even the resident who sparked The Knolls' interest in ASL gets involved. He helps residents to practice their signing skills and Gail says that class is much more fun when he's involved. Most importantly, he really enjoys the connections that the ASL class has provided, allowing him to communicate with fellow residents.
Gail herself is humbled by the opportunity to share ASL with fellow residents: "It opens them up to another community and another way of communicating with others. I'm really happy that I could use my expertise to enable our fellow residents to connect with the Deaf Community."
"I didn't originally think that I'd be able to help like this," Gail continued. "But it's interesting that in life, you can always find a way to use your talents."
Enjoying opportunities to give back at The Knolls
The ASL class is just one of the ways that Gail and The Knolls' residents make a difference in their community. The Knolls' community store donates a portion of its profits to Feeding Westchester, a local charity that provides food to those in need. During the holiday season, many residents are also very active in holiday charity efforts within the community.
"We have all kinds of activities, on and off campus, touching many organizations and faiths," Gail said.
On top of it all, Gail also finds time to serve as the editor of the community newsletter, vice president of the association committee and resident liaison to The Knolls' cultural arts committee.
"A full life"
Somehow, amidst her impressive array of volunteer tasks, Gail still finds time for herself. She says that she has a full life outside The Knolls, and that living in this community enables her to her enjoy everything just as she always did, prior to moving to The Knolls. In fact, Gail has always enjoyed singing and is currently rehearsing for a solo in her church choir's upcoming recital at a local music conservatory.
Gail is also looking forward to spending the holidays with her family, including her eight grandchildren, as always. She typically spends time in New York and Illinois to see them all during the Christmas season. Luckily, living at The Knolls makes traveling a breeze thanks to our maintenance-free lifestyle and ideal location near travel hubs.
It's easy to see how Gail makes a difference at The Knolls, and how living at The Knolls has made a difference for Gail. We invite you to explore what special experience you may have at The Knolls! To get in touch, simply click here, or call 914-461-4517 today!