Residents Premiere Self-Produced Digital Productions at Jacob Burns Film Center Reception
Earlier this month, Adele S., Gail R. and Tony B., residents of The Knolls Continuing Care Retirement Community, were among those who premiered their work at the Jacob Burns Film Center (JBFC) Media Arts Lab in Pleasantville. Forty people attended a reception to view the post-production projects of students from a 12-week digital storytelling course.
JBFC, which had ­received a grant from the National Guild for Community Arts Education in relation to its Catalyzing Creative Aging program, offered the course. The Knolls residents, along with the five community members in the class, truly enjoyed learning how to use digital technology.
This unique opportunity—for The Knolls residents to be specifically invited by JBFC to participate in such an amazing project—embodies the exceptional opportunities that exist for those living in this culturally connected CCRC and county.
For Adele, it offered the perfect solution to preserve the artwork of her late husband. Gail Ryan realized it would be a wonderful way to share the story of her immigrant mother from Ireland. And Tony Barron felt it would enable him to honor his late brother-in-law in a meaningful and tangible manner.
During the course, which was held for two hours once a week from September to December, The Knolls residents each created a five-minute media presentation using images, music and voiceovers. Adele, Tony and Gail attributed their new comfort level in using technology to JBFC Senior Faculty Program and Curriculum Development staff member, ­Theresa Dawson. Theresa assisted class members with ­conceptualizing and creating their stories. Her instruction, combined with their hands-on involvement, access to a sound studio, ­engineers and professional equipment, enabled the class to complete ­polished projects.
Adele's artful story
Adele recounts one of the standout production moments for her. "I had my final script ready and read it into the microphone," she said, reflecting on how she watched the engineer through the window, working the sound board for her recording.
She is telling the story of her ­husband's artwork, which reflected their life, love and his sense of humor. "I've been wanting to find a way to do this for a while, it's very cathartic," she said.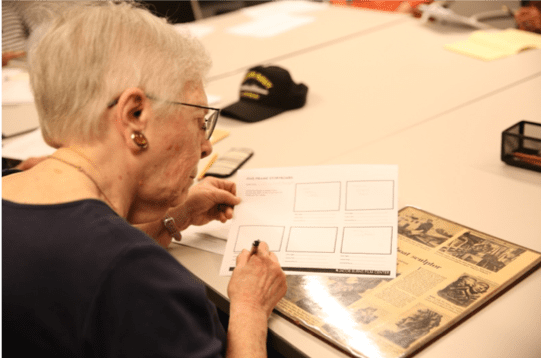 Adele and her husband had lived in ­Manhattan Beach, Brooklyn. When Hurricane Sandy came through, their home was flooded and many of the photos ­documenting his work were destroyed.
"[The JBFC] let me borrow an iPad so I could bring it home to take photos. Using the iPad has been a revelation to me. It has expanded my universe!" said Adele, who also used it to take videos. "I'm thinking of getting one," she added.
Using tech to tell a special tale
Gail shared the narrative of her mother's arrival from Ireland as an ­immigrant. She appreciates that technology allowed her to find additional images and elements online to help tell her story, ­including the ship her mother travelled on as well as its manifest.
"My mother was also a nurse, so I went online and found a picture of a nurse's ­uniform from the 1940s with the hat and cape," Gail said.
She is also including a poem by Emily Dickinson and traditional Irish music for her presentation. "This will be for my family. It will be a story for them," Gail said.
A poignant tribute
Tony was devastated when his ­brother-in-law passed away in 2018. "We were very close. My wife and I travelled with him and his wife all the time. I thought this would be a good way to honor his memory," Tony explained.
"We all rely on our grandkids to help us with technology, so this has been a great ­experience, although a little overwhelming at first," he continued.
Strong connections
The course not only provided great educational value and personal reward, but it was also a bonding experience. Adele, Gail and Tony spent a good amount of time together, traveling to and from the media lab and working side by side. "We have all become closer, the three of us, as well as with the others in the class," Gail said.
The three say they would take the class again if it were offered. "I don't think any of us will ever hear 'Jacob Burns' again without getting emotional," Adele said.
Staff members from Bethel and The Knolls as well as a number of The Knolls residents also attended the closing reception to relay their kudos to Adele, Gail and Tony in person. Class instructors and leadership staff from JBFC were also on hand to congratulate all participants.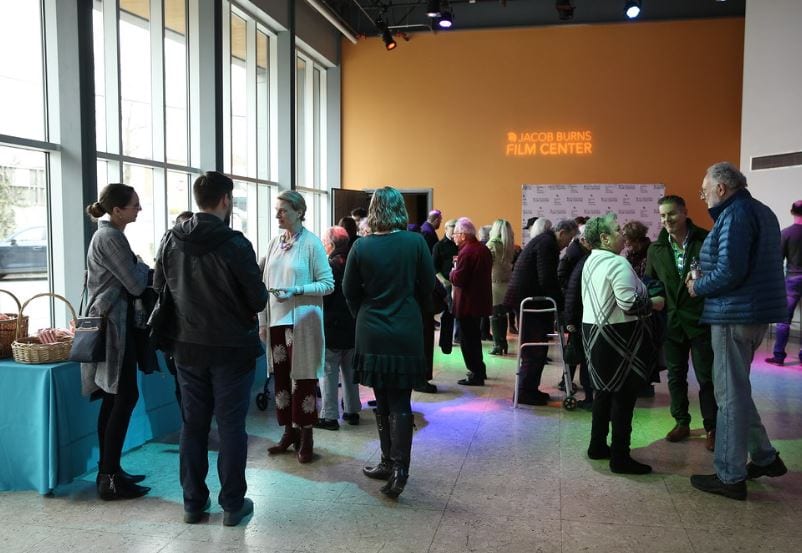 One of the many charms at The Knolls is the close-knit sense of community among residents, as evidenced by the number who attended the reception to support their three friends, and the sense of comfortable camaraderie felt throughout the campus. "This is a small place and we are meeting people that we haven't seen in years as well as neighbors we had never met because of school district boundaries. It's really nice," Tony said.
Clearly, The Knolls has so much to offer! Cultural and learning experiences, such as this JBFC course, abound in Westchester County, and living at The Knolls ensures easy access to these wonderful programs and exceptional events. Combine that with a built-in friend group and relaxed setting, and what more does one need?
For more information about living at The Knolls or to schedule a visit, simply click here or call 914-461-4517 today!